Good Essay Writing Tips
Let us provide you with our own essay writing tips that helped us cope with the challenging academic workload without applying extra efforts.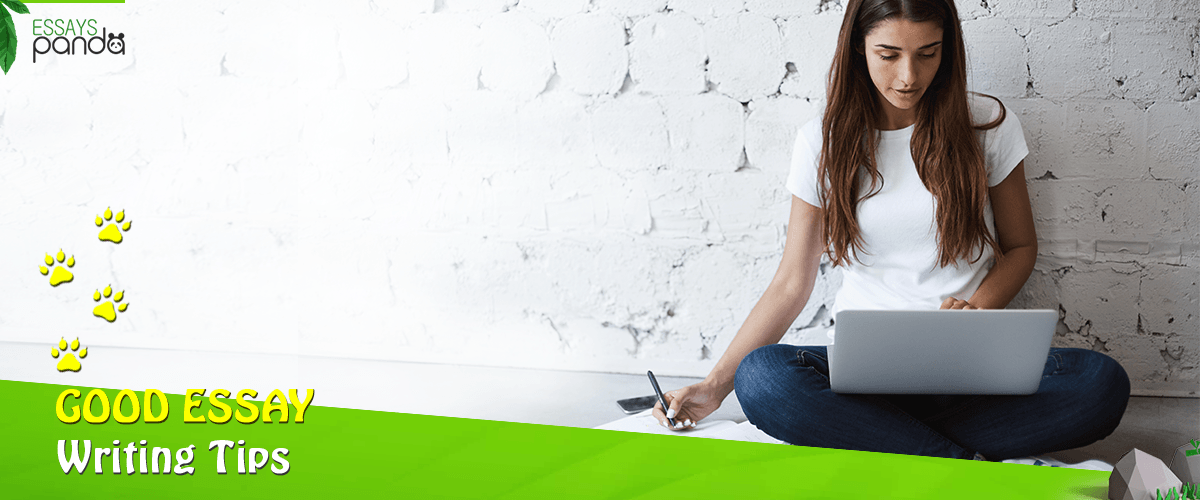 Memorize Essay Writing Tips that Will Benefit Your Writing Career!
No matter if you are a good essay writer or not, as a student you have to complete various writing assignments. Indeed, numerous writing tasks are a considerable part of your academic schedule, and if you want to gain an excellent reputation at your educational institution, you need to possess good essay writing tips. As the former English students, we can responsibly admit that writing essays is far from the best thing in the life of any student. We can even understand that you hate writing essays. However, by honing your writing and research skills, you will facilitate the writing process; thus, economize your time on doing your favorite activities.
Common Writing Tips for Students
Tip 1. Do not even start writing your essay without having a clear plan on what to write in it. We know how it can be tempting to start writing your essay right away, especially if your deadline is very tight. However, we can assure you that having a clear plan of actions; your writing process will be much more organized. When it comes to writing an essay, which should follow a classic structure, having a plan is a must. Depending on the assignment you need to complete, your plan can have a form of a simple list of bullet points or a detailed outline that will uncover the main ideas you want to discuss in your paper. Having no plan, you risk including the irrelevant information that has nothing in common with your topic.
Tip 2. Do not procrastinate. You probably know that waiting until the last minute to do something is not a good strategy. Yes, if you have a lot of assignments to complete, leaving some of them on the last night is unavoidable. However, doing your paper on the last night of your deadline, you will never demonstrate your best work. Also, you should think about your health. Working for all night will negatively influence all your body systems. A good technique that can be helpful in overcoming procrastination is to break a huge task into pieces. For instance, if you have to write a lengthy research paper, set deadlines for writing each of its parts. If you have a short essay due in three days, we recommend you to create an outline on the first day, write your paper on the second day, and revise it on the last day.
Tip 3. Know the time of the day when your productivity is the highest. All people live according to specific biorhythms that define their productivity within the day. To demonstrate excellent result, you need to know when your work is the most effective. Since high school, some people know that they are the early birds. As such, they know that leaving their writing tasks until night, they will not be able to write, structure, and format them properly. It does not mean that you should act equally. Every person is unique. You just need to listen to yourself and find out what part of the day is the most convenient for you to work.
Tip 4. Ask your professor to provide you with the sample of the paper you need to write. Undoubtedly, having a good example, you will find it easier to understand what is expected of you. When your professor provides you with one, take a closer look at this paper and figure out what makes it good. Maybe the writer has applied a creative approach. Maybe it is the logical flow of ideas that makes the reader follow them one by one. Be attentive and never copy-paste from these samples. Doing so, you will be accused of academic dishonesty and will suffer from numerous negative consequences. After all, violation of the author's rights is a serious crime and if you take care of your academic performance, your paper should be fully original.
Tip 5. Format your paper correctly. You probably know that there are several common formatting styles. Of course, you should not learn the essential features of all of them. However, if you are asked to use a specific format, you need to use it correctly. Formatting defines the use of citations and the general layout of the paper. If you are unsure about some rules, look for the practical manuals from the reputed websites. We assure you that consulting with the proper sources will only enhance your writing competence.
Tip 6. Look for the misused words or phrases. If your essay contains some words of word combinations that are used incorrectly, you need to fix them to make your essay easy-to-read. Remember that correct wording is an integral part of your grading rubric and if you want to get a good grade, you need to follow it precisely.
Tip 7. Edit your paper thoroughly. We do hope that you realize the importance of editing your papers before submitting them. If not, we assure you that you have to do that. Yes, most students do not like to re-read their papers trying to find out the logical inconsistencies and various mechanical mistakes. However, we are sure that you are one of those determined and goal-oriented students, who realize the importance of editing for getting the anticipated grades. You should realize that when editing your essay, you do not only fix your mistakes, you also learn from them. When editing your paper, do not look only for the typos but try to find out the areas that could be improved in general. Whereas there are a lot of websites offering fast checking of your paper, we are certain that there is nothing better than manual editing.
Tip 8. Show your essay to your classmate and ask for feedback. It is always good to have someone, who would look at your paper before its submitting and suggest what can be improved in it. We assure you that your classmate will find it easier to notice the potential problems you could overlook. However, ask your friend to be as objective and unbiased and possible. Remember that reasonable criticism will help you improve your proficiency.
We do hope that our tips for essay writing will help you facilitate your writing process. Should you have some comments or recommendations, feel free to leave your comments below. If you want to share your own essay writing tips, you are welcome!
It is very difficult to learn how to become a good writer. A good writer is not a person, who writes without mistakes (though, it is also very important). A good writer is an artist, who is able to think creatively, analytically, and knows how to introduce the techniques and experiences received in everyday life into the paper. Yes, not all people can be good writers. However, it is not the reason not to develop your potential. Who knows, maybe you are just a perfect writer, who hides behind the figure of a shy girl?
Classic Three-Paragraph Essay
Though there are a lot of academic papers, most of them follow the universal structure that contains only three major elements: an introduction, the main body, and a conclusion. Indeed, for many decades, this structure is just perfect for developing a specific idea from different angles.
How to Write a Good Essay? Efficient Guide
Want to know more about efficient essay writing strategies? Keep reading and you will find out the tips on writing an essay that will help you become a talented writer.
Some professors assign the topic to the student manually. Some of them prefer to provide the students with the list of topics so that they could choose the one, and some instructors give freedom to the students allowing them to create the essay topics on their own. If you are allowed to select the topic, we recommend you to pick up one that perfectly fits your research interests because such a topic will turn the boring writing process into the wonderful activity. Narrow down your topic if necessary. we recommend you not to work on the topics that are too broad because you will find it difficult to analyze it in detail. Very often, providing just a general overview of the specific topic, the students get failing grades and wonder what they did wrong. You should understand that the process of choosing the topic is particularly important and you should not underestimate its value. Also, the choice of the topic depends on the nature of the assignment. Do you need to write a persuasive essay? A descriptive essay? A compare and contrast essay? To select a good topic, we recommend you to write down several ones and conduct preliminary research on each of them trying to understand which one is the most relevant and engaging. Finally, when you have chosen the topic, we recommend you to get approval from your instructor. Having many years of experience in the academic area, your supervisor will guide you which topic will help you develop an interesting and engaging paper.
Create an outline or a mind map.
In order to create a good essay, you have to organize your thoughts in the right order. You probably know about brainstorming as an efficient technique in academic writing. The brainstorming process is usually performed after conducting in-depth research and having some information on your topic. When brainstorming your ideas, make sure to write down the list of aspects that interest you in your topic and can engage your target audience. These notes will help you create a good outline that will serve as a basis for your essay. A smart student fully realizes the value of an outline since it helps economize the time in the writing process. Some creative students produce mind maps that also contain the important points that will be covered in the essay. We assure you that having a good outline, you will be able to see connections between your ideas and stay focused.
Create a good thesis statement.
A thesis statement is the main idea of your essay that penetrates in every paragraph of your work. A thesis statement is usually written at the end of the introduction. Your thesis should inform your reader about your goal in your essay. It is generally accepted that your thesis statement should present both your topic and your point. For instance, if you are writing your essay about Barack Obama, your thesis statement can be as follows: "Barack Obama is an inspiring leader of the US nation, who managed to bring democratic values into the White House." Another example of a good thesis statement is: "In the following essay, I am going to analyze my previous experiences and accomplishments that will help me succeed in this college."
The main body of your paper is the part that follows the introduction. The main body usually consists of several paragraphs that start with the good topic sentences related to a thesis statement. In an academic essay, each of the body paragraphs should describe a single idea. We assure you that jumping from one idea to another, you will only confuse your reader. Thus, we recommend you move smoothly from one idea to another with the help of the right transition words. Your main body is the part of the essay where the actual discussion takes place. In this part, you are free to express your arguments but do not forget to support them with accurate evidence. When using some outside sources to back up your claims, make sure to cite them appropriately to avoid plagiarism.
You will be surprised, but we assure you that the best time to write your introduction is after writing your main body. The essential requirement for the introduction is that it should be engaging and interesting to make your reader follow the flow of your ideas. For this purpose, you may use an anecdote, a shocking fact, a short story, a meaningful dialogue, or anything else that can serve as a "hook."
A conclusion of your essay is a particularly important part because it ties all your arguments together helping you evaluate the relevance and accuracy of your arguments. You should know that your conclusion should not introduce new details or new citations. You need to refer to your thesis statement once again and summarize the main arguments that helped you develop your topic.
When your conclusion is written, you may think that you can submit your essay. You are wrong. Before you submit your work, you need to pay attention to small details, which, though, may undermine the overall quality of your paper. Make sure to read your essay, again and again, to understand if the flow of your ideas is smooth and it contains only relevant information. To achieve the best result, you need to put the strongest arguments at the beginning of your paper and the weakest in the end. Review the instructions once again. Do you think your essay covers all of the professor's essay guidelines? If not, make sure to revise it. If some of your ideas sound awkward or do not make sense, make sure to delete them.
Now, when you know the effective writing essay tips on how to write a perfect essay, it is time to check out our samples to know how these ideas are applied in practice.