9 Steps to Writing Research Paper: Trust Your Paper to Experts
If you are working on a research paper but have no idea what to write about and how to organize the paper, then you should definitely need professional help. Many students encounter writer's block when they are lost for ideas or when they do not know how to approach their paper.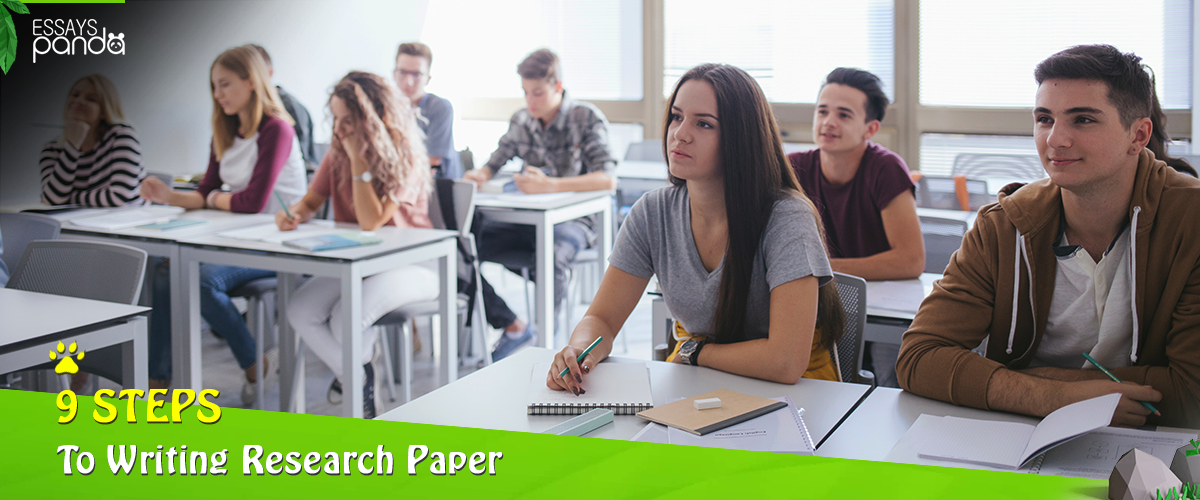 Overall, research paper writing is tough and challenging, so to help you deal with it, our company's writers have composed 9 steps to writing a research paper, which might ease the writing task. Why are research papers so complicated? – Because these are large assignments, which demand quite a lot of time to cope with them. Moreover, what makes it stressful for students to deal with research papers is the fact that these academic assignments are decisive for the overall academic success. Students need to work in a diligent and focused way in order to master the art of research paper writing. If you are not sure how to cope with your research paper and how to succeed in it, be sure that it is a good idea to read the following 9 steps to writing a research paper. The following steps will assist you with your research paper so that it is a well-tailored and organized one.
Steps in Writing a Research Paper
Step 1. Make sure you understand the assignment.
This step may seem obvious but actually many students fail to read the research paper prompt or instructions carefully and attentively enough to be able to understand it in-depth. You need to read the instructions carefully sentence by sentence and make it clear what the professor requires you to write about. Some students sometimes even skim read the assignment and then get surprised when they are given revision that they have failed to address some part of the assignment. Most often, students fail at research papers simply because they did not understand the assignment properly.
So, if you want to do everything possible in order to succeed in your research paper writing, first of all devote enough time to reading the research paper assignment and studying the instructions closely. Pay attention to the grading rubric, prompts, templates, samples, and any other materials you have been provided with. Sometimes, if the paper instructions are too long and detailed, it is even advisable to take notes while reading the assignment. Also be sure to ask your teacher for clarifications if you need them. Do not be shy to ask for help. When you are ready to cooperate with your teacher, remember that you will be on the right track.
Step 2. Perform thorough research on the assigned topic.
Mostly, students are assigned with specific research paper topics but sometimes they need to come up with a topic on their own. In the latter option, be sure to choose the topic wisely and carefully. Keep in mind that it should be interesting both for you as a writer and for your target readers. When choosing a topic for your research essay, be sure to choose an interesting but at the same time controversial topic. You need to be passionate about the research process, so be sure the topic will enable you to discover something new and bring originality and novelty to the research field. If you choose a topic that is challenging for you, you will not get bored, so there are more chances that you will enjoy the writing process. Try not to choose either too broad or too narrow topics. When the topic is too broad, there are all probabilities that it is already well-researched and thus it will be almost impossible to research some new facts. On the other hand, if the topic is too narrow, you may not be able to find sufficient supporting information that will serve as expert opinion. Therefore, do not choose too philosophical or technical topics. When formulating your research paper topic, make it clear and concise.
Step 3. Carry out the research.
This is the primary step of all the research paper steps mentioned on the list. This is the very core of the paper – the research of the topic. This part is fairly improvised as it depends on the topic and on the research type how you will conduct the research. Moreover, the research process depends on an individual: even though the paper topic may be the same for the whole class, each student will approach the assignment in own unique way.
Some of the most important things you need to take into consideration in the process of research are the following:
skim read the sources for literature review;
find only credible and trustworthy sources that are updated;
never ignore any information you come across concerning your topic.
What does skimming involve? When you skim read the information, you look for keywords throughout the text, which relate to your topic. It would be impossible to read all the sources in-depth before utilizing them in your research. Therefore, skimming is a valuable skill you should train. Save your time and skim read the sources in order to find the most relevant ones.
When looking for sources, be sure to pay attention to the ones that are updated and credible. Sources taken as supporting evidence for research paper writing should be peer-reviewed and scholarly. Therefore, look for online libraries and depositories that contain peer-reviewed articles and books. No Wikipedia is allowed, especially when you want to cite the source and rely on it as expert evidence in your research paper.
However, despite the fact that Wikipedia is bad for referencing, you can easily read some articles from it for background information on the topic. If you find that the topic is clearly addressed, why not reading some article from Google search or Wikipedia if it is written in a comprehensible way. These sources can be a good starting point of your research.
Step 4. Organize your research.
After you have gathered all the important information concerning the research, you might probably ask the question, "How to construct a research paper?" It is logical that you want to know what to do with all the gathered information. Getting organized is essential for writing a successful research paper. At the same time, do not expect from yourself that you will perfectly organize the paper from the very first draft.
Start from devising the plan or an extended outline. Moreover, it will be a good idea to start organizing the bibliography or the reference list right from the beginning – once you have started finding the sources, keep them in account. Even if you cite the sources in text but do not have a complete reference list yet, it is not a reason not to keep track of the citations. Try to insert the referrals to the sources in the process of writing.
When asking, "How to make a research paper?" many students suppose that the writing stages should be "chronological" – starting from the title, introduction, and ending with a reference and appendices. However, it is not always the best option to do so. Maybe now you will be less surprised with some professors' asking for a bibliography still when no research paper is completed. Therefore, find the best way for you to organize the sources.
Step 5. Formulate a strong and clear thesis statement.
Among the 9 steps to writing research paper one of the fundamental ones is working on the thesis statement. Try to write the thesis in a strong and argumentative way so that it clearly conveys the main idea/ message. The thesis should be formulated in a logical and concise way – preferably in one well-developed sentence. It should reflect the main idea of your research paper as well as the core aim of investigating the topic. Before developing the main research paper ideas, be sure to have a thesis statement. Another function of a properly composed thesis statement is to help you focus on the main ideas and not to deviate from the topic.
The type of thesis statement you will write should depend on the kind of a research paper you are working on. Check out the following types of research papers:
Persuasive. You need not only to provide a strong argument but also to provide your own viewpoint on the issue with the core purpose to convince your target audience to accept your opinion.
Argumentative. Here you mainly present a well-developed discussion with solid arguments in favor or against the topic. The conclusion should be properly argued.
Expository. This type of a research paper aims at providing information and explaining some topic.
Analytical. Apart from merely presenting the information, you should also critically analyze the topic in depth.
You may be interested: How to Buy a Research Paper Online?
Step 6. Provide an extended outline.
You have brainstormed a lot of ideas and now it is high time to start structuring them. For organizing them, try to opt for outline or plan writing. Outline writing will help you get a clear vision of the whole paper before you have it completed. When you work on the outline, you will know how many body paragraphs you will have, what aspects you will address in each of the paragraphs, and what examples you will apply. Many students undermine the importance of outline writing but do not try to save time in this way. When you have written an outline, you are more likely to spend less time on the very writing process when you try to unite all the collected information in one paper. The outline will be a roadmap in the process of writing.
Think of the major aspects you would like to reflect in the research paper. Normally, the key points can be formulated into topic sentences of the body paragraphs. Make sure that you include only relevant information. Try to avoid any unnecessary or irrelevant details even if they seem really appealing to you. Try to adhere to the plan without deviating from the topic.
When you devise the outline, include the following components:
cover page;
abstract page;
introduction;
methodology;
discussion of the results and findings;
analysis of the findings;
conclusive paragraph.
Step 7. Write the text of your research paper.
This is finally the step when you start writing the text of your research paper. Undoubtedly, you might feel as though you should have started this stage long ago still it takes time to know how to write a research paper step by step, so all the aforementioned steps were essential as well. All the previous steps ensure that your paper is logical, smooth, concise, and well-structured.
As you are working on the text of your research paper, do not be a perfectionist. It is next to impossible to write an impeccable paper from the very beginning. You will have to write several drafts and carry out a few revisions before you reach your aim of getting a perfect paper. Do not focus on perfect grammar and spelling first of all – try to make the content readable and logical. The same concerns the title – it is hard to come up with a great title at once, so do not waste much time on formulating the title for your paper if you do not have inspiration or creative ideas yet.
When working on the body of the research paper, remember to be original and creative in the ideas you convey and the message you communicate across. Plagiarism issues lead to severe punishment from professors and sometimes even exclusion from colleges and universities, so be careful about that.
Paper Guide on How to Write an Introduction to Your Research Paper
When you start writing your introduction, remember that it should start with a hook – a statement, fact, idea, quote or statistics that attracts attention of your target readers. Working on an academic paper does not mean that you are supposed to be boring – you are encouraged to provide appealing facts and make your writing interesting. Remember to finish your introductory paragraph with a thesis statement. It can also be a research question, where you indicate the main intention of conducting the research.
When working on your introductory paragraph, be sure to provide sufficient background information on the topic, explain everything in detail, provide some definitions and interpretations if needed, and emphasize on how you plan to approach the research process.
How to Work on the Main Body
With the help of an outline, you will be able to organize the body paragraphs without any problems. However, you are free to deviate from the original plan if you have found some fresh ideas or have decided to change direction of the paper development. The only thing you should definitely follow is your thesis – you need to stick to the main idea and develop it. Be sure to start each body paragraph with a topic sentence and add sufficient illustrative facts and details in each of the paragraphs. Always support your arguments and standpoints.
How to Write a Conclusive Paragraph
Mainly, research papers end with the reiteration of the thesis statement. Still, remember that reiteration is not the same as word-for-word repetition of the thesis or copying and pasting of the information presented in the introduction. Just paraphrase what you have found or proved or sum the information up in other words. Do not provide any new information in the conclusion and do not introduce any new ideas. Still, you are welcome to provide recommendations or a call to action concerning a specific issue.
How to Make the Research Paper Perfect?
Work on your drafts and always devote sufficient time to revisions. If you want to make a good impression on your professor, never submit your paper without revision. Always edit and proofread the paper and check formatting.
Step 8. Edit your paper.
Once you have written your paper, set it aside for some time and after a few hours or even a day (depending on how much time before submission you have), start paper editing. What does the editing process entail? First of all, you need to check the paper in terms of transitions, smoothness, development of ideas, and logical combination of different statements. Pay attention to the vocabulary structures and word choice. After you have ensured that the content is of satisfactory quality, you can switch over to proofreading the text in terms of grammar, punctuation, spelling, and typos.
Some of the most important aspects you should pay attention to while proofreading the paper:
avoid contractions (they are not favored in formal and academic writing);
check on the usage of colons and semi-colors (be especially attentive if you tend to confuse them);
pay attention to spelling;
double-check pronoun references to persons;
pay attention to format (particularly if you have some text written in bold or italics);
check on the formatting of quotations;
pay attention to the usage of apostrophes for possessives and plurals;
double-check easily confused words, i.e. two, to, too, quiet and quite, etc.;
pay attention to modifiers (maybe there are some dangling modifiers or misplaced ones).
A great tip for the proofreading process is to scan your paper from the end to beginning. In this way, you will pay more attention to separate sentences and lexical units instead of perceiving the paper content as it is.
Step 9. Re-read the paper once again and submit it.
After you have finished with step 8, it is time for you to put the paper aside and take a break. After a day or two (or after a few hours – if you do not have sufficient time before submission), please take the paper and re-read it. Only after you have ensured that it is impeccable in content and mechanics, submit it to your professor.
If this task seems too difficult, ask our writers to do it for you!
Place your first order and get
15% off discount!