Perfect Cover Letter
Find out some tips on how to write a good cover letter or get the perfect letter written by a professional.
Cover Letter Writing Help
After graduating from college, students start looking for a job. In this case, the most important thing is to write a great cover letter. It can be a time-consuming and even annoying process. However, it is a great opportunity to present yourself to an employer in the best way. You should not be shy to tell about your educational achievements. You can also mention the awards, which you have got for taking part in some academic contests, in your resume cover letter. Your primary purpose is to be called for a job interview. That is why you have to persuade the employer that you are a suitable applicant for a certain job. Try to display the qualities that make you stand out among the others.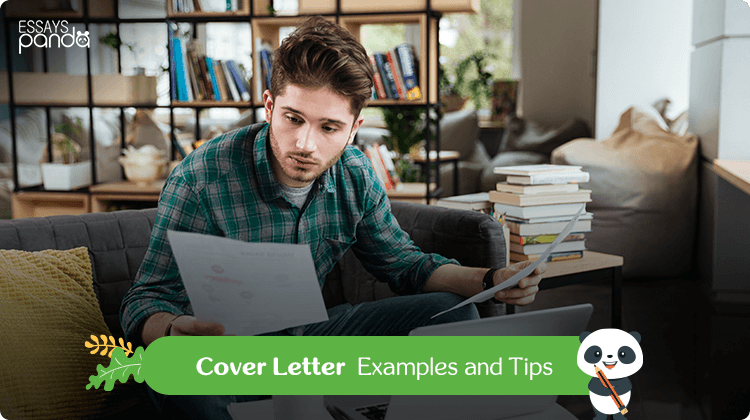 A perfect cover letter begins with proficient cover letter writing help. However, if you are willing to do it on your own, you should know that a cover letter is a 1-page written document, which contains information about your professional experience, including:
The place of your previous work;
The knowledge about the company's goals and objectives;
Personal attributes that can help you succeed in the workplace.
Writing cover letter documents is an essential part of the application process. You cannot apply for a job without submitting a resume and a cover letter. Make sure that it is perfect because a bad cover letter is worse than no cover letter at all.
Purpose
A good cover letter is always brief. However, it provides concise and relevant information pertaining to your qualifications and knowledge. The task is to introduce yourself to the company and its people. Also, a good cover letter will:
Make a compelling case for hiring you
Showcase your willingness to contribute to the organization's performance
Outline your personality and any individual attributes that can help you at work
Confirm that you are a hard worker
Encourage the hiring manager to invite you for an interview
With these goals in your head, you can create a powerful and effective cover letter that will help you achieve your workplace and career goals.
Cover Letter Essay Writing: What to Include
Make sure that your cover letter is one page long. Be concise but informative.
See what the company wants to see in its employees and include information that showcases the skills and knowledge required to get the job.
Each cover letter for essay writing must be written exclusively and individually. It must illuminate your knowledge of and familiarity with the organization's history and goals.
Follow a clear and natural style. Include mature wording, but do not overload your cover letter with complicated words. Use active voice. Be confident. Get timely cover letter writing help if needed. You will have only one chance to impress the manager.
Illustrate your personal attributes. Try to look as a human, not merely as a worker. Capture the hiring manager's interest.
Create a logical argument; make sure that you move from one point to another step by step.
How to Write a Cover Letter: Expert Hints
Below you will find simple recommendations to help you craft a brilliant cover letter.
First Paragraph
What is a cover letter? It is a document that will help you get the wanted job. As a result, in the opening paragraph, specify the purpose of writing.
Refer to the point of contact: how did you learn about the job? Did you see an advertisement? Do you know someone who works in the company? Then describe your professional and educational qualifications in a few words: e.g. experienced nurse supervisor, DNP, RN.
Second and Third Paragraphs
Elaborate on the information included in your resume (attached to the cover letter).
Make the hiring manager interested in you. What specific skills or qualifications do you have that make you stand out against others and fit for this job?
Identify the skills, qualifications, and educational achievements that match the requirements of the selected job. Use information from your resume. Expand upon it. What exactly can you do you improve the organization's performance?
Concluding Paragraph
It must be proactive. The hiring manager must see that you are willing to take this job, and you are determined to succeed in it.
Outline any additional materials that you want to enclose in your application. For example, it can be a sample of your work. If you cannot enclose it, provide information about how the hiring manager can obtain it.
Do not forget to say, "Thank you." Tell the hiring manager that you look forward to hearing from him or her.
Want
an expert write
a paper for you?
Talk to an operator now!
When you begin to write your cover letter, pay attention to the following:
Make the right cover letter format. Do not use some uncommon fonts to make your paper look unusual, not like others. Instead of it, you should present impressive writing content.
State the reasons for sending your resume to a particular company. Do not forget to mention your work schedule. Indicate whether you are seeking a part-time job or interested in full-time employment only.
Tell the employer where you have found a job advertisement. For example, if you found it on the agency's webpage, it means that you have every intention of working for it. It would be also useful to mention the person from the enterprise who offered you to apply for a certain position.
Do your best to make the reader look through your resume. While writing a cover letter, you have to grab reader's attention. Otherwise, it will be put away and may be lost in the pile of alike papers. It is essential to write about your experience in detail. By the way, you may say that more valuable information will be found in the resume. Thus, it can interest the employer even more.
Talk about your skills and qualifications. You should not mention your writing skills, in case your paper contains some mistakes. By the way, you may share a funny joke. It will help express your personality.
Keep in touch. If you have an intention to contact the employer, leave your e-mail address and a phone number.
Cover Letter Examples and Tips
Below, you'll find a cover letter sample, written by our professionals. You can download this example or order the similar authentic paper!
A good cover letter begins with a well-written subject line, particularly if you are going to send it via email. Make sure that the subject line does not remain empty. Moreover, take it as an opportunity to capture the hiring manager's attention. For example, you can write, "Experienced nurse supervisor looking to contribute."
Write brief and informative sentences. The cover letter must be short. Do not exceed 1 page. You are not the only candidate. The manager will read dozens of similar resumes and cover letters. Yours must be the most attractive. It must be memorable.
Confidence is everything. It must shine through each and every letter in your document. You are to persuade the manager that you deserve to be hired for this job.
A cover letter must be more than simply a resume. You cannot simply reiterate the information provided in your resume. Emphasize your most important attributes, skills, and achievements.
Your cover letter must be research-based. That is, you must show that you know the company, its strategic goals, plans, values, and priorities. A hiring manager can "sniff" a standardized resume and cover letter before you even send it.
Take information from the job advertisement. Use it as an insight into the nature and complexity of the job.
Identify the most valuable keywords. This way, managers will find it easier among dozens of other letters.
Check your cover letter. It must not contain a single error.
Get timely cover letter writing help to increase your chances of getting the desired job.
Convert your MS Word file into PDF before you forward it to the hiring manager.
You should make every effort to write a good cover letter. It is necessary to remember that your paper has to show that you are the best candidate for a particular job. Do not hesitate to point out your positive features.
Excellent Cover Letter Writing Help

Getting most of your cover letter is possible if you cooperate with advanced professionals and know where you can request affordable cover letter writing help. You are most welcome to check our examples of cover letters. Use our cover letter tips or ask an expert to help you with your documents.
If you need a cover letter for a job, trust your writing task to our professionals. You will not have to worry about your career or professional future when you hire us!