How to Write an Ethnography Paper?
If you need to produce such a paper but you lack sufficient skills or writing inspiration, below you will find several handy guidelines that will help you face this challenge successfully.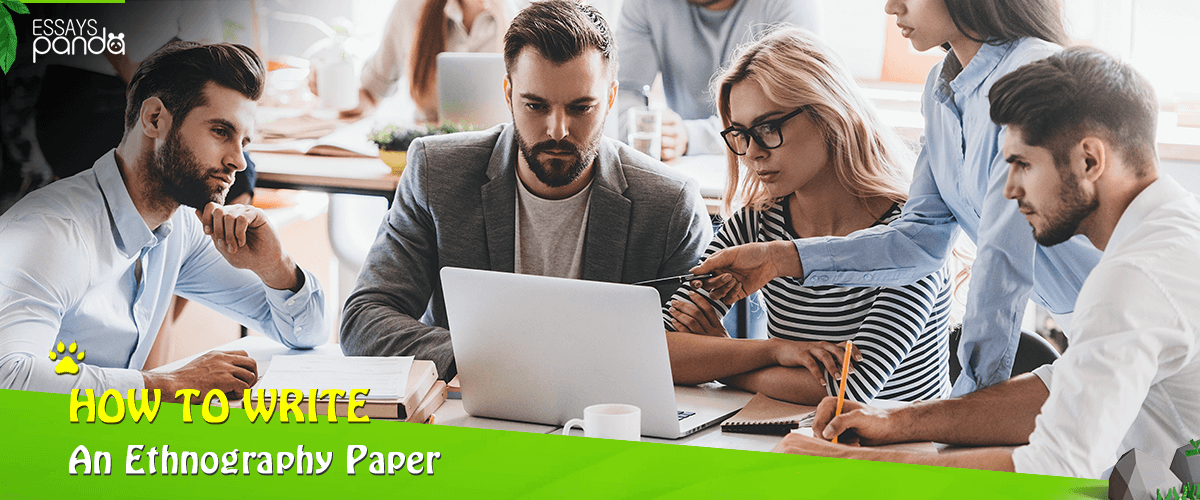 What Is Ethnography?
Before we provide you with the handy tips and suggestions helping you find out how to write an ethnography, let us explain to you the very essence of the ethnography concept. The term "Ethnography" has Greek origin and consists of two parts "people" and "to write."
Ethnography Definition
The common ethnography definition says that it is a branch of cultural anthropology that follows a systematic approach in learning the specific ethnic groups, as well as their culture, traditions, and beliefs. The researcher, who works with this branch of anthropology is called an ethnographer.
An alternative ethnography definition says that it is a scientific research strategy used in the social science disciplines. This study focuses on people's, ethnic groups and their formations, as well as their composition, social welfare characteristics, and material/spiritual cultural features. Noteworthy, this study is often used for gathering empirical data on society and culture. Writing an ethnography paper is a pretty challenging task to do because there are a lot of important issues to consider. Besides, to cope with this assignment well, the researcher should know a lot of ethnographic aspects and theories.
Common Types of Ethnography
An ethnography paper allows the reader to have a deeper insight into the specific culture and its people. Depending on their nature and purposes, ethnographies can be categorized as follows:
Ethnography research paper;
Cultural ethnography;
Ethnography review;
Case study;
Ethnography essay;
Ethnography report.
How to Write an Ethnography Paper? A Step-by-Step Guide
We assure you that by following the tips for writing an ethnography paper given in our guide, you will be able to write a winning document and get positive feedback from your target audience. 
Research
Before you start writing your ethnography, you need to develop a questionnaire in order to gather data from the people, who can help you develop your ideas. A questionnaire is a series of questions that will allow you to obtain important information from the community leaders and other people. You should understand that a questionnaire is a basis for your study. Therefore, you should spend enough time to make up good questions. These questions should be both open-ended and closed-ended as all of them will allow you to get the maximally objective and unbiased answers. Additionally, before you start working on your ethnography, you may study the examples of well-written documents submitted by other students. Although you should not copy and paste any information from them, using these samples for boosting your writing skills is a great idea. 
When you are done with writing your questionnaire, we recommend you make up an outline and follow it when writing a paper. A good outline will allow you to keep your ideas organized in the right order. Below, you will find the main parts of an ethnography paper.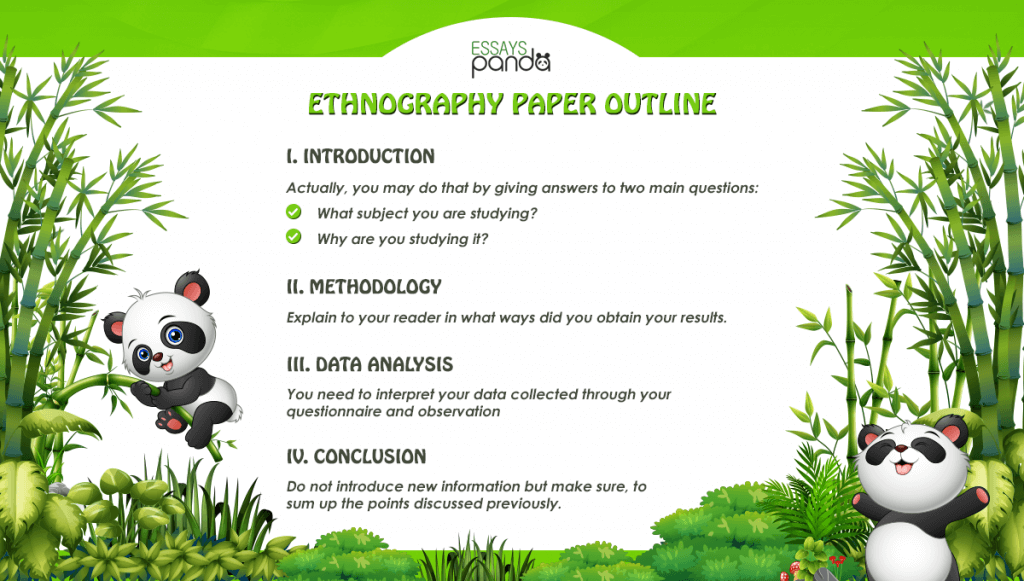 Introduction
As soon as you are done with the collection of materials, you need to write an introduction. It is the first part of your paper in which you should engage your reader and contextualize your topic. Actually, you may do that by giving answers to two main questions:
What subject you are studying?
Why are you studying it?
If you succeed in providing your reader with this information, he or she will understand your purpose and research objectives better. Try to convince your reader that you are qualified enough for doing research and you will receive the result needed. Besides, knowing who is your target audience, you will find it easier to understand what kind of background information should be included.
Methodology
Explain to your reader in what ways did you obtain your results. Tell more about your conversations with community folks and explain their answers. Besides, you may include information about the challenges you had to overcome when working on data collection.
Data Analysis
Next, you need to interpret your data collected through your questionnaire and observation. What is more, you may suggest a brief account of your personal opinions and experiences during the study. Do not forget to tell your readers what you have learned from your study. 
Conclusion
In your conclusion, do not introduce new information but make sure to sum up the points discussed previously. In order to convince your reader that your study has both theoretical and practical value, feel free to explain what you have learned about the particular culture. Remember that the success of your ethnography depends on how well you finalize your document.
Writing an Ethnography Paper: Helpful Tips
Do not be afraid to explore. 
The easiest way to write an impressive ethnography is to work with a good topic. Therefore, we highly recommend you take some time to choose an interesting topic that will not only help you enjoy the writing process but will also allow your readers to discover new interesting aspects. Very often, professors assign their ethnography topics on their own. However, if you have the right to choose the subject to work with, make sure to pick up something that is relevant and fits your research interests. Working on something that you are passionate about or something you are not familiar with, you will turn the writing process into a great adventure that will allow you to create an engaging paper. To choose an interesting subject, we recommend you to conduct preliminary research that will help you find out what captivates your attention;
Build a strong thesis. 
Yes, choosing the topic for your ethnography paper is very important. However, if this topic is too broad, you won't be able to compose a successful paper. To write a paper that will be straight-to-the-point and comprehensive, you need to narrow down your topic and write a strong thesis statement that will help you define the scope of your work. A strong thesis will help you develop the topic sentences that will appear at the beginning of your paragraphs;
Write a good introduction. 
In an ethnography paper, as well as in any other academic paper, an introduction plays a very important role in helping the audience understand the topic better. Therefore, you should never underestimate its importance. Many students prefer to write an introduction only when the main body is already written as it helps them understand what hook to include to grab the reader's attention;
Write a good outline.
A professional writer knows the importance of a good outline. A well-written outline is like the backbone of the paper that helps the writer know what to do next. What is more, an outline will help you focus on the most important aspects and skip the details that are not relevant;
Improve your final draft. 
As soon as you are done with the rough draft of your paper, you need to revise it. You should double-check if your paper is good in terms of content, structure, and formatting. Besides, your paper should be free from plagiarism and mechanical mistakes. In other words, to bring you a good grade, your paper should be absolutely authentic and free from the flaws compromising its quality.
Yes, the process of writing an ethnography paper is very effort-consuming. It may take a few days or even weeks to write a perfect paper. However, you should understand that this assignment is a great instrument for developing your writing, research, analytical, and multi-tasking skills. If you manage to cope with this task successfully, you will improve your writing skills, which will help you cope with other similar tasks in the future.
Example of Ethnography Paper
Ethnography Essay Topics
If you understand how to write an ethnography paper but you still lack writing inspiration, let us provide you with interesting ethnographic essay topics and ideas that will help you create an impressive paper:
Discussion of the ethnic identity of Chinese: mythological and ethnical aspect;
Ethnocultural traditions of Italy. A case study;
Discussion of the ethnocultural adaptation of migrants in the Jewish Autonomous Region in the 21st century;
The major problems of ethnocultural globalization in the modern world development;
Women's tattoos. Their functions and semantics;
Discussion of animals in the traditional worldview;
The phenomenon of puppets in traditional and contemporary cultures;
The concept of tolerance in ethnic culture;
An analysis of Egyptian funeral rite as an ethnocultural phenomenon;
Cultural and ethnical features of the Japanese choreographic art;
Architecture in Europe: ethnocultural aspects;
The female deity as a part of the religious concepts of Central Asia;
Youth politicized communities as an object of socio-anthropological study
Discussion of Pantheon and its role in Ancient Greece.
All in all, spending a considerable amount of time and effort, you will be able to write a great ethnography paper. However, if you do not have the time or writing skills to work on this assignment or you still cannot understand how to write an ethnography, do not be afraid to ask for professional help. Having a good writing provider to rely on, you will be able to solve all your academic problems and achieve the desired academic goals easily. We want to assure you that our professional writing platform is just the best place to order an ethnography paper because we have a writing team that consists of seasoned professionals capable of creating top-notch quality papers on different topics. For many years of hard work, we obtained a reputation as a premium essay writing service that produces only premium quality writing assistance. Our company is working 24/7 in order to help our customers regardless of their time zone. So, if you believe that academic writing is not your cup of tea, do not waste your time and contact us. We will do everything possible to provide you with an outstanding result!