How to Write an Essay Outline: An Easy Guide
Before you find out how to write an essay outline, make sure you understand what an outline is. An essay outline is one of the basic tools of draft writing because it helps you organize a paper properly.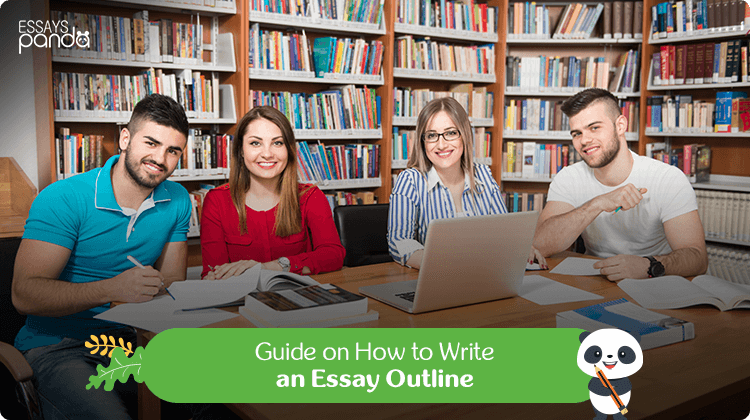 When working on an essay draft, students try to find the best way to organize their ideas logically to make sure that the content reads easily. An essay outline summarizes the key arguments of your essay and gives the writer an idea of the best way to present his/her information. Typically, students have to submit a five-paragraph essay, so they should be familiar with the structure already when writing a rough draft.
Why Does Essay Outline Matter?
Writing an essay in one sitting can be super challenging. Writing a first draft or an essay outline will help release the pressure. Outline writing has a number of advantages, including an opportunity to organize thoughts, come up with the best way to present information, and identify the weak points in your arguments. In other words, if you know how to write an essay outline and take some time to actually write it, you can avoid mistakes before even making them in your essay, which spares you hours and hours that could be wasted on revisions and editing.

If you have never written outlines before but want to improve your writing skills, you should fill the gap in your knowledge and start using this pre-writing tool ASAP. You might want to check out some essay outline examples or read a detailed tutorial. Alternatively, we offer you a clear and simple guide to writing an essay outline that is suitable for your writing assignments. These are the steps to follow when working on your outline:
Step 1. Come up with a good topic
The first step of essay writing is choosing a topic. To make a successful choice, carefully read the tutor's requirements and guidelines and then start brainstorming some ideas. At this stage, you do not have to mull over each idea. Instead, put them all down on paper and then select the ones that you find the most interesting. Sometimes writers might get stuck between a couple of ideas. In this case, free writing is really helpful. Give yourself 3-4 minutes for each idea and write down all thoughts that come to your mind. If you feel that some idea inspires you a lot, this is the perfect choice for your paper. Essays that writers are passionate about are easier not only to write but also to read.
Step 2. Establish the purpose of writing, target readers, and the central argument
After selecting a topic, you have to understand why you are going to write this essay and who is going to read it. It is impossible to write an influential essay if you do not understand the purpose and the target readers because you will not be able to come up with appropriate arguments. To help you make the right choice of the outline format, look at the requirements once again and ask yourself the following questions:
Which objectives is this paper expected to meet?
What are the keywords in the essay prompt?
Do the requirements ask me to inform, persuade, or educate the reader?
Who is going to read my essay? Will it be my professor, peers, scholarly audience, or the readers with a limited understanding of the topic?
Which arguments will my target audience find the most compelling?
Will my argument evoke any emotions? How can I counterbalance them with factual evidence?
Step 3. Create a thesis statement
Now that you are ready to start creating your draft paper, it is high time to create a thesis statement for your essay. It will be only one or two sentences long and it will present the purpose and the main idea of the paper. It should not simply list the facts or your opinion. Instead, a thesis statement identifies what you are arguing for (or maybe against) in the body of the paper. In your final draft, a thesis statement should be a clear, concise, and accurate statement of the topic.
The Structure of an Outline
You can either create a rough outline draft or write it right away. Think of an outline as of a skeleton of your paper. The structure of a paper is just as important as the information you include in it. Any essay should have the following components:
Introduction
This is the opening paragraph in which the author of the text announce the topic and the background of the essay. Apart from being informative, an introduction also should be interesting, so invest some effort in the opening statement.
Body paragraphsThis is the bulk of the paper and it requires most of your attention. There are different structure types:

Thesis-driven structure, when the writer expresses his/her argument and then supports it.
Reverse structure, when the writer describes and analyzes the available facts and draws conclusions afterwards.
Each body paragraph has to discuss a topic in-depth and express a finished thought.

Conclusion
This is the last paragraph of an essay and it should summarize the main ideas that were discussed in the body of the paper. It should be a brief restatement of what the reader was expected to understand by reading the essay. It is also recommended to include a call for action.
Some more essay writing basics you should be familiar with include the knowledge of the structure. Usually, students are free to choose between alphanumeric and decimal formats.
For alphanumeric format, use numerals (Roman or Arabic) and capital or lowercase letters. This type is the most common.
For decimal format, use only numbers, starting with 1.0.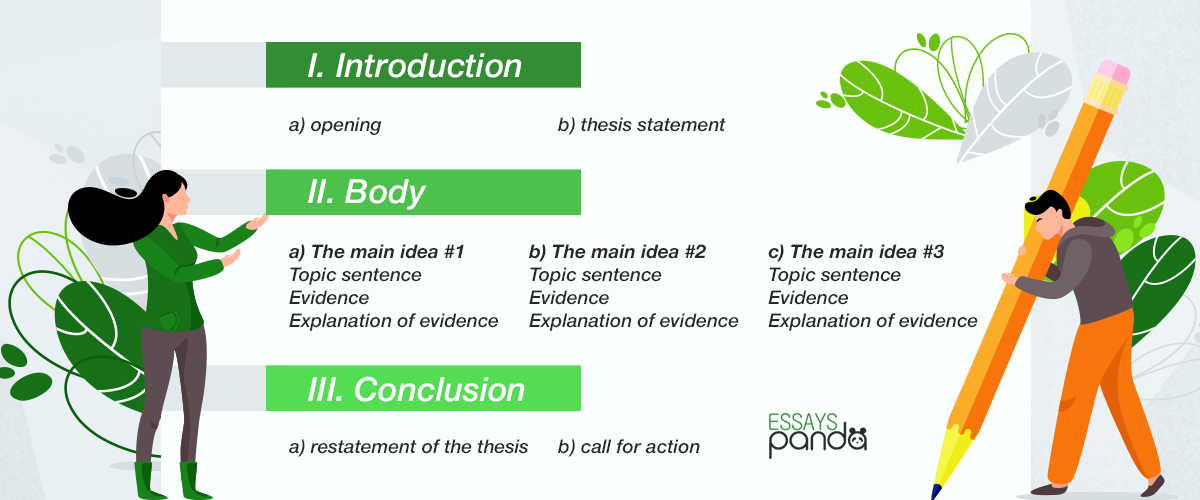 How to write an essay outline: Proper Format
Generally, the students start writing essays either without any outline or using the linear style in outline formatting. They need to know more about how to write an essay outline to add to the efficiency of their writing and improve the grades they get for their work. Ranking the arguments in a certain fixed order, i.e. from those major in importance to those minor in it, the students limit their creativity and deprive their works of an aspect that impresses the readers.
NB: you can use an easy essay outline without any complete or complicated sentences. As it is only an outline, not an essay itself, you can apply any convenient formatting of the evidence and arguments. The only important aspect to consider is that it has to be understandable for the readers and comfortable for you. Make sure you have looked through the guidelines on how to write an essay outline and excluded all redundant, unclear, or repetitive parts in the outlines to your future works. You have to avoid all kinds of inconsistencies and duplications.
Remember:
Even if you feel that the topic you have chosen for your essay is familiar to everyone, it can be a wrong idea. The readers may know nothing about the subject you consider to be primitive and widely-spread. Make sure you do appropriate formatting of your essay outline according to the recommendations from the essay outline guide. Assume that some readers are absolutely unaware of the topic you like and arrange the prepared arguments so that the flow of ideas is logical and clear to everybody.
Essay Outline Sample
If you are not sure how to write an essay outline, you can use the following sample when working on your next essay:
I. Introduction
a) opening sentence
b) thesis statement
II. Body
a) The main idea #1
Topic sentence
Evidence
Explanation of evidence
b) The main idea #2
Topic sentence
Evidence
Explanation of evidence
c) The main idea #3
Topic sentence
Evidence
Explanation of evidence
III. Conclusion
a) restatement of the thesis
b) call for action
Writing Tips from the Best Essay Writers
You have seen pictures of animal outlines, for instance, panda outlines, so you know that they present all the characteristics of the animals in a structural manner. When you do the structuring of the essays and outlines, do that accordingly as well.
Identification. Essay draft outline writing assists in the identification and categorizing of the essay type as well as the manner of representing ideas. The nature and structuring of outlines for analytical, narrative, persuasive, or argumentative essays may differ significantly.
Editing. Essay outline writing should always be followed with the editing of the text. It is essential to check whether the paper is going to be systematic. Your essay will be more effective if you ensure 100 % categorization and make the background ideas chronological in nature. Formal writing pieces should have arranged ideas and properly edited sentences.
Proofreading. The structure of an outline is as much important as the absence of mistakes in the text. Proofread the outlines for all types of grammar, punctuation, and spelling errors to boost the effectiveness of your writing.
Format checking and citations. Check which format you should use according to the instructions and double-check whether all the standards of APA, Chicago, MLA, or any other style are met in references and citations.Your professor will not need to read through the essay to know whether it is well-written if there is an outline attached. If you have ever seen an effective essay outline sample, you know that it clearly demonstrates that an essay is going to be successful. Experts can give you valuable advice on how to avoid failures. They will help you eliminate redundancies and irrelevant information, so it would be wise to make use of their assistance.
Understanding of the Subject. A proper essay outline format should be accompanied by the right subject direction of your writing.
Your Do's and Don'ts in Writing a Great Essay Outline
Do not forget to follow the main principles of essay outline writing. You can do that by learning all do's and don'ts that you should take into account while working on your essay outline.
Do's
Identify the purpose of writing;
Give a proper title;
Make all sentences precise and accurate;
Check all the citations for relevance;
Ensure smooth transitions;
Make the topic elaborate.
Don'ts
Vague ideas and statements;
Excessively long paragraphs;
Mere summarization of the used sources.
Qualified Help in Essay and Outline Writing from Experts
If you need help with the outline for essay writing, you can contact our writers and get the well-structured paper you need along with the references and original approach applied. We can guarantee that our writers will use the needed format, level of writing, and subject you want us to use. If you require our help, just click on the button.
Who Can Provide Assistance
All your concerns will be ours if you address us. We are here 24/7 and our professional writers will be happy to work for you. A lot of positive testimonials from the satisfied customers of our website speak for themselves.
Rely on our premium essay services in case you need assistance. We would like to communicate with you and answer all your questions. We can give you all the details you might need from us. Feeling stuck, you can contact us to make your student's life a bit easier. Let us help you be a step ahead of all your classmates!